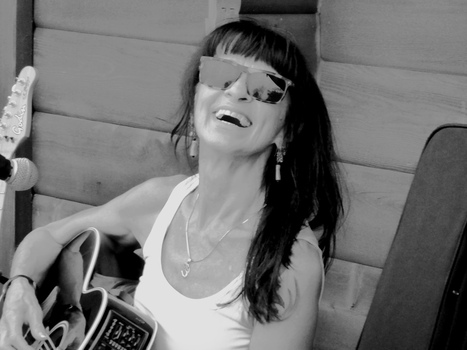 Bev's stage debut was singing early blues classics in a Delta Blues duet in her home city of Regina. She has also led a rock band, played with a world rhythm djembe drum group, and performed as a jazz vocalist for a decade, her extensive experience ultimately shaping her evolution as a Singer/Songwriter. Her music evokes the essence of some of her inspirations: Joni Mitchell, Tracy Chapman, and Bonnie Raitt. Since 2002, she has released
two albums and three EPs of original material
, both designing and co- producing her latest album,
Standing on a Platform of Kindness
, as well as producing her sold out
CD release at The Artesian in Regina
. Bev has been recognized for her community involvement and contribution to the arts with a
YWCA Woman of Distinction in the Arts Jacqui Schumiatcher Arts Award
.
Lifelong yoga practitioner, adventurous world traveler, and award winning language and literature teacher
, Bev channels her creative energies into guitar study and writing songs to inspire social conscience, connection, and compassion. Having completed her teaching career in 2013, Bev now divides her time between travel, scuba diving, yoga and language study in Asia - recently adding Indonesian singer/songwriter covers to her performances - and
doing volunteer work and
performing at numerous benefit concerts in Canada
.
Bev holds a Master of Education Degree with a Specialty in English Literacy, a Bachelor of Education Degree in French, and a Bachelor of Arts Honors Degree in French, Social Studies, and Women's Studies.
Whether sharing original lyrics or interpreting covers, Bev Zizzy is a singer / songwriter with something to say, and a voice with which to say it well. Her smoky vocal delivery is intense, innovative, and compelling, and her soul-baring, insightful, stories memorable, engaging, and inspiring.
MEET BEV
---