DISCOGRAPHY

ALBUMS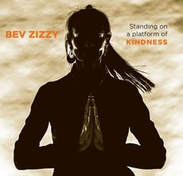 STANDING ON A PLATFORM OF KINDNESS
Album 2016
Thirteen talented musicians accompany Bev Zizzy's powerful vocals and unmasked insightful songwriting on her latest album,
Standing on a platform of KINDNESS, which she both co-produced and designed. Although the thirteen album tracks offer
diverse lyrical stories and varied instrumentation, they are all thematically connected by an underlying theme of kindness that
runs like a river throughout.
"Standing on a platform of KINDNESS metaphorically melds personal experience to societal struggles with Bev's velvety, smooth vocals and inspirational acoustic soul. The whole album works as an extended metaphor, describing the journey of life."
~Angela Shaffer, New York based www.punchland.com
Read Angela Shaffer's complete album review
Bev Zizzy Bends Genre, 13, and Connectivity
---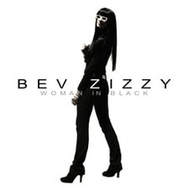 WOMAN IN BLACK Album 2009
On
WOMAN IN BLACK
,
singer/songwriter Bev Zizzy delivers fourteen powerful originals of deeply personal, insightful, often
heart-wrenching but always positive stories, delivered in her own distinct blend of acoustic soul, jazz, and blues. Her stories are
real; her vocally compelling delivery is intense, innovative, and passionate; and her lyrics indisputably hopeful and inspiring.
---
EXTENDED PLAY / EP RECORDINGS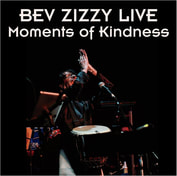 BEV ZIZZY LIVE Moments of Kindness EP 2017

This six track EP is testimony to the vibrant organic energy, the little imperfections, and the special "Moments of Kindness" experienced at the live concert release of "Standing on a Platform of Kindness", recorded at The Artesian on 13th in Regina Canada on June 25 2016.



---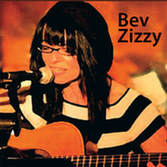 BEV ZIZZY Self - Titled EP 2008
With her self titled EP release in 2008,
BEV ZIZZY
, Bev shares three tracks of insightful, heartfelt, and gripping lyrical commentaries of personal and global turmoil, balanced with a gutsy blues rant to keep your spirit lifted. She continues to reveal her profoundly introspective soul searching songwriting abilities, while adding considerable depth and power to her soulful vocal delivery.
---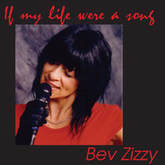 IF MY LIFE WERE A SONG EP 2002
The debut EP release of four tracks of acoustic soul,
If My Life Were a Song,
marks the beginning of Bev Zizzy's venture into the world of songwriting to explore life experiences, and introduces the singer / songwriter as an artist with something to say, and the voice with which to say it well.
---
ALBUM COMPILATIONS and SINGLES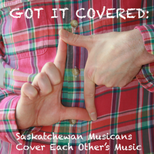 GOT IT COVERED: SASKATCHEWAN MUSICIANS COVER EACH OTHER'S MUSIC
Compilation Album 2016
The Got it Covered compilation of 15 Saskatchewan artists is a
fundraiser for Regina's Community Radio Station 91.3 CJTR.
The track I chose to cover for the compilation is
Two Years Gone
by Saskatchewan singer-songwriter
Scott Richmond
from his
2012 album
Come What May
.
Purchase of this album directly supports CJTR and its continued support of local artists. Thank you.
BUY Single TWO YEARS GONE
BUY Album GOT IT COVERED
---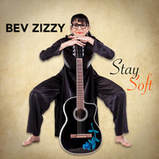 STAY SOFT
Album Single June 2016
The pain of loss pulsates throughout this unmasked self reflection, revealing the narrator's inner struggle to be free of the demons fed by anger and holding on, delivered with a powerful crescendo of vocal harmonies, drums, violin and cello.
"There's a timeless energy and earnest emotion to Bev's new track. The instruments are mesmerizing and flow beautifully with her soulful voice. For a song called 'Stay Soft' , the delivery packs quite a punch." ~ Kim Belding, QCIndie.com
---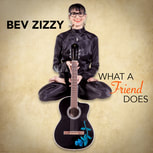 WHAT A FRIEND DOES Album Single
May 2016
Bev Zizzy cleverly delivers her simple but profound lyrics with her smoky, compelling, vocals complemented by innovative jazz bass
lines and piano accents in
What a Friend Does
.
"Bev Zizzy is an artist that clearly writes and sings from the heart. 'What a Friend Does' is a song that beautifully showcases her smoky voice and kept my toes tapping long after it ended." ~ Allyson Reigh . Singer-songwriter & member of Rosie & the Riveters.
"Zizzy Makes Modern Jazz Shine. Rolling with modern-jazz energies, 'What a Friend Does' harnesses the positives found in friendship. Zizzy wraps music with experience. Here, she shows that the support of one's friends assists in solving daily struggles of life.
Bev Zizzy's redirected-modern-jazz and velvet vocals display the evolving attributes of genre."
~
Angela Shaffer, New York based www.punchland.com
Find Bev Zizzy music on: ITUNES or CD BABY
---