Bev's stage debut was singing early blues classics in a Delta Blues duet in her home city of Regina, Saskatchewan, Canada. She has also led a rock band; played with a world rhythm djembe drum group; and performed as a jazz vocalist for a decade, her extensive experience ultimately shaping her evolution as a Singer/Songwriter. Her music evokes the essence of some of her inspirations: Joni Mitchell, Tracy Chapman, as well as, indirectly but significantly, her first and most enduring musical influence, the Beatles. Since 2002, Bev has recorded two complete albums and three EPs of original material, and both designed and co-produced her latest album, Standing on a Platform of Kindness. She has been recognized for her community involvement and contribution to the arts with a YWCA Woman of Distinction in the Arts Jacqui Schumiatcher Arts Award.

"As a singer / songwriter whose vocals and lyrics are enriched by extensive life experience as an award winning language and literature teacher, sultry jazz and blues singer, adventurous world traveler, wife, mother, and lifelong dedicated yogi committed to the power of giving, Bev promises to provide a memorable and inspiring experience of smiles, connection and compassion delivered in vocally compelling, insightful lyrical stories".

And as with everything she does, she gives it her all.

---
Listen to

Stay Soft

from her album

Standing on a Platform of Kindness. "There's a timeless energy and earnest emotion to Bev's new track. The instruments are mesmerizing and flow beautifully with her soulful voice. For a song called 'Stay Soft' , the delivery packs quite a punch."
~ Kim Belding, QCIndie.com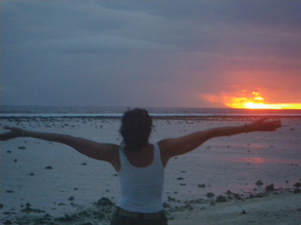 Follow Bev's travel adventures @
www.mytb.org/The-Dreamchasers
Discover the joie de vivre which inspires her music.
Indulge yourself in ninety nine travel stories and a thousand photos recorded over five years.
Get inspired.
Discover this beautiful planet and all its wonderfully diverse cultures.
Thank you for your interest in my music
---