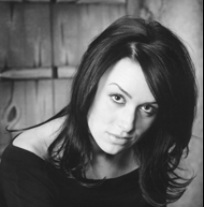 Tesalyn Zizzy-MustatiaApril 10, 1984 - September 21, 2001
My daughter Tess has inspired much of my writing, and continues to guide me silently in my life.
She Was Fire
was the first of several songs on my 2009 album
Woman in Black
inspired by her:
Rock Bottom, Because of You, Special Days, Brand New Day, I'm Movin' On,
and
Still Smiling
recorded on my 2016 album
Standing on a Platform of Kindness
. I have been fortunate to have had songwriting to help me through this journey. I hope that my music provides others with strength, inspiration, and hope. Many of the lyrics come from a place of sadness, and attempt to seek meaning while making the best of the worst situation, but most of all, they look for ways to find lost our smiles and move on.
---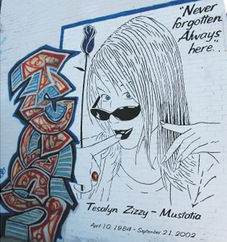 Tessa's Mural - 2800 Block 13th Avenue, Regina, SK

I would like to express my family's gratitude to Tess's friends who so freely and painstakingly created this memorial mural in Regina's Cathedral neighborhood in her honor. Although the design work took several months, the actual painting of the mural took place as part of the 2003 Cathedral Arts Festival, the same festival during which I made my debut as a solo artist at the first annual Soul Sisters' concert. The mural was a work of love, as was Tess.

---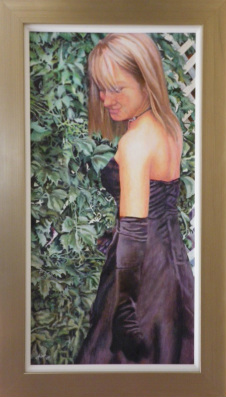 "Tessa"

Years later, in 2010, I commissioned my colleague and friend, the very talented Regina artist, Val Moker, to paint one of my favorite photos of Tess, taken in our garden, when was seventeen. Val worked on the image for months, during which time she experienced a number of challenges that delayed the process. Val told me it was one of the most frustrating, but also most rewarding, pieces she had worked on. My response was that her statement pretty much described what it was like to raise Tess: never easy, but ultimately deeply rewarding. In spite of the challenges, Val succeeded in capturing the essence of Tess in her portrayal. I remain in awe of her incredible talent. "Tessa" was officially unveiled on September 21st, 2011, on the 9th anniversary of her departure.


---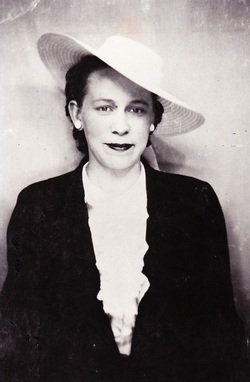 Mary Prebushewski Zizzy
May 18, 1942 - November 13, 2006
My first musical inspiration, however, was my fashionable, singing, laughing, dancing, harmonica-and-mandolin playing mother,
Mary Zizzy
. To quote the lyrics from the song I wrote as a tribute to her,
Remember Me
, recorded on my EP
If My Life Were a Song
, "she's the one who taught me to smile this way, she taught me how to laugh, and how to play". She, like Tess, walks beside me now in silence. For these women in my life, I am forever grateful.
---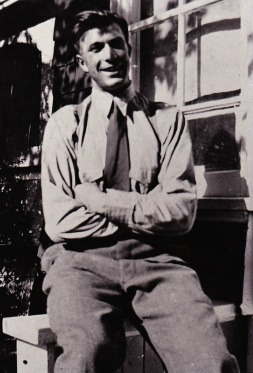 Alexander Zizzy
June 6, 1918 - May 25, 1974

Although I cannot credit my father for my musical attributes, he is undoubtedly responsible for the drive that has kept me running on full power, working on numerous projects simultaneously, somehow balancing a teaching profession, music career, family, and community involvement all my life. It is he who has given me this insatiable drive to learn as much as I can, and do whatever I do to the extreme best of my ability, often driving myself and others around me slightly crazy in the process. My perfectionist, ambitious, self-disciplined, incredibly responsible, extremely hard working, family oriented father. I think he deserves credit for the tall and thin genes as well. Thanks Dad.
---